Try the best of everything that we offer! Cheese curds, Haystacks, 2 Pretzels and 2 Chicken Tenders. Choice of 2 dipping sauces. 12.99
WHITE CHEDDAR CHEESE CURDS
Nothing says Wisconsin like our cheese curds. Served with our house Ranch or Chipotle Ranch Sauce. 6.99
A heapin' helpin' of deep fried pork belly bits served with a PBJ dipping sauce. 8.99
Crispy onion straws served with your choice of house made Ranch or Chipotle Ranch sauce. 5.99
3 crispy chicken breast tenders. Choice of 1 dipping sauce. 6.99
Chewy goodness with our nacho dipping sauce. 6.99
Crispy tortilla chips topped with ground beef, nacho cheese, tomatoes, onions, jalapeños and black olives. Served with salsa and sour cream.
Full Order 8.99
Half Order 4.99
Lightly breaded, fried to a golden brown. Served with Chipotle Ranch or Ranch. 5.99
Beer battered fries or wedges. 3.99 Your choice of Parmesan Ranch or Lumberjack Rub for an additional .30 each. Nacho cheese sauce  .50
Lightly seasoned, deep fried green tomatoes. Served with your choice of 1 dipping sauce. 6.99
CUP OF SOUP 2.99
BOWL OF SOUP 3.99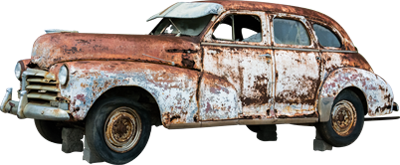 Pick your sauce
5 Wings – 5.99
9 Wings – 9.99
13 Wings – 13.99
SPICY LUMBERJACK
House made dry rub.
DEVIL'S LAKE
Our sassy tequila, garlic & lime based sauce is finger lickin' great.
BUFFALO
Traditional sauce with medium heat.
BOUNDARIES SOCO
Mild and tangy with just the right touch of Southern Comfort.
PATTI'S PERFECT PARM RANCH
The perfect blend of parmesan cheese and dry ranch.
REECE'S REBELLION
Delicately balanced sweet chili and zippy honey garlic.
BEAR NAKED
The way nature intended. Plain and simple wings.
Our "smashed" burgers are dangerously juicy, with the crispiest, meatiest crust you'll ever find!
Our char grilled burgers are hand pattied from fresh, never frozen USDA ground beef. Served with French fries & a pickle spear. We'll cook your burger your way: "smash" or traditional.
Customer's favorite. A generous 1/3# pattie smothered with your choice of cheese, grilled onions and drizzled with our house made bacon bourbon sauce. 8.99

Char grilled pattie nestled in a grilled bun. 6.99 Add your choice of cheese. 7.99
Cheese curds and crispy onion straws piled high with your choice of cheese. Topped off with a drizzle of BBQ sauce. 8.99
Char grilled burger smothered with sautéed mushrooms and swiss cheese. 8.99
2 burger patties piled high and topped with your choice of cheese, 4 strips of bacon and fried onions. 10.99
Char grilled burger, choice of cheese, topped with zesty salsa and a drizzle of ranch. 8.99
Burger pattie covered with swiss cheese, sautéed mushrooms and onions. Nestled between perfectly grilled marble rye. 8.99
Perfectly seasoned taco meat on a bed of fresh greens, topped with shredded cheese, onions, black olives and jalapeños. Served in a crispy, fried tortilla shell. Salsa & sour cream on the side. 7.99 Sub chicken for 8.99
Crisp garden greens topped with your choice of crispy or grilled chicken. 7.99
The perfect mix of fresh, crispy greens topped with tomatoes, cucumbers, red onions and croutons. 5.99
2 crispy, all white meat chicken tenders, gently tossed in buffalo sauce and piled on a bed of fresh, crisp salad greens. 7.99

Italian, Fat Free French, 1000 Island, House Made Bleu Cheese, Honey Mustard, House Made Ranch, French
Any sandwich can be turned into a wrap. All sandwiches are served with fries.

Gently grilled chicken breast or 2 crispy tenders topped with sautéed mushrooms, swiss cheese and grilled onions. All this goodness served on grilled hoagie bun. 8.99
2 crispy, all white meat chicken tenders or a grilled chicken breast covered with Pepperjack cheese and drizzled with buffalo sauce . Served on a gently grilled hoagie bun. 7.99
Juicy, grilled chicken breast, lettuce and tomato on a grilled bun 7.99
Thinly sliced corned beef, piled high, topped with zesty sauerkraut, swiss cheese and 1000 Island dressing. Tucked between grilled marble rye. 8.99
Lettuce and tomato covered with 4 generous pieces of bacon on toasted, rustic cut sourdough. 7.99
Hand cut beef tenderloin, topped with grilled onions, 2 strips of crispy bacon and your choice of cheese. Served on a toasted hoagie bun. 8.99

Dinners include choice of
potato, cole slaw and a biscuit.
2 Piece Dinner 8.99
4 Piece Dinner 10.99
All White Meat, add 1.00
Broaster chicken is made to order and requires 15 - 20 minutes to prepare.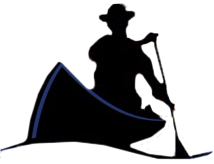 All dinners are served with your choice of potato (fries, wedges, baked, mashed or potato pancakes) and cole slaw. Choice of sauce: Tartar, Lumberjack Tartar or Cocktail.
Flaky, Atlantic cod loin. Your choice of baked or beer battered deep fried.
2 Piece – 8.99
3 Piece –10.99
8 delicate bluegill fillets, lightly battered and deep fried to a golden brown. 13.99
6 Jumbo Gulf Shrimp, marinated in our special sauce, skewered and flame grilled. Served over a bed of wild rice. 14.99
A tender, 8 oz salmon fillet seasoned with our hand rolled butter. Served over a bed of wild rice. 16.99

SLOW ROASTED PRIME RIB DINNER
Dinner includes soup or salad; French fries, wedges or baked potato and dinner roll.
Queen Cut, 8 oz. – 17.99
King Cut, 12 oz. – 19.99
Bubba Cut, 18 oz. – 26.99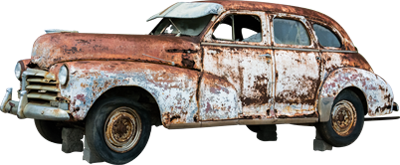 ADD A SKEWER OF 3 JUMBO SHRIMP TO ANY DINNER FOR 5.99
All menu pricing is subject to change without notice.
*Whether dining out or preparing food at home, consuming raw or undercooked meat, poultry, seafood, shellfish or eggs may increase your risk of foodborne illness.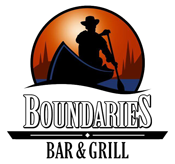 BAR HOURS
| | |
| --- | --- |
| Sunday - Saturday | 10:00 am - Close |
KITCHEN HOURS
| | |
| --- | --- |
| Sunday - Saturday | 11:00 am - 9:00 pm |
| | |
| | |
KEEP IN TOUCH
You can follow Boundaries on all major social platforms. News, contests and special offers are announced on these platforms.